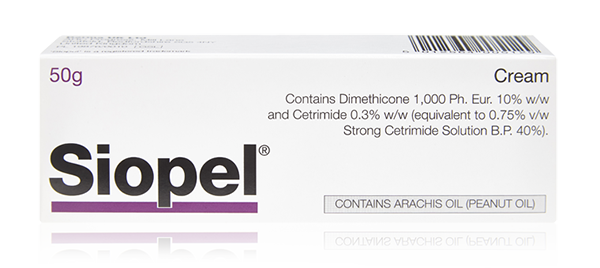 Product Indication
Siopel® Cream contains two active ingredients, cetrimide and dimeticone.  Cetrimide is an antiseptic which destroys a wide range of bacteria (germs), including those found in wounds, whilst dimeticone protects the skin from water.
Siopel® cream is therefore useful whenever the skin needs to be protected from water-soluble irritants or external irritants.
How to Use Siopel® Cream:
Wash and dry the skin.  Apply the cream sparingly and massage well into the skin.
Apply three to five times daily for the first three to four days. Then, once or twice daily.
Do not use on skin that is acutely inflamed or weeping, or before the skin has been cleansed of irritants, such as dirt.
Where to Obtain Siopel® Cream:
Siopel® Cream can be bought at your local pharmacy and is also available on prescription from your doctor.
Product Information:
Siopel® Cream contains Arachis oil (peanut oil) and should not be applied by patients known to be allergic to peanut.  As there is a possible relationship between allergy to peanut and allergy to soya, patients with soya allergy should also avoid Siopel® Cream.
Due to regulatory changes, the content of the Patient Information Leaflet (Revised August 2015) may vary from the one found in your medicine pack.  Please compare the 'Leaflet prepared/revised date' towards the end of the leaflet in your pack, with the date on the document below, to establish if there have been any changes.
Pack Sizes
50g tube
Active Ingredients
Strong Cetrimide Solution, 0.75% v/w
Dimeticone 1000, 10% w/w
Adverse Effects
Adverse events should be reported. Reporting forms and information can be found at https://yellowcard.mhra.gov.uk. Adverse events should also be reported to Derma UK on +44 (0)191 375 9020
Certificate of Authenticity