Inflammatory skin disorders
BETESIL is indicated in adults for the treatment of inflammatory skin disorders which do not respond to treatment with less potent corticosteroids, such as eczema, lichenification, lichen planus, granuloma annulare, palmoplantar pustulosis and mycosis fungoides.
Due to its particular pharmaceutical form, BETESIL is suitable for chronic plaque psoriasis localized in difficult to treat areas (e.g. knees, elbows and anterior face of the tibia on an area not greater than 5% of the body surface).
BETESIL contains 2.250 mg Betamethasone Valerate (corresponding to 1.845 mg of betamethasone).
Betamethasone valerate for topical application is active in the treatment of dermatosis, which responds to corticosteroids, due to its anti-inflammatory, antipruriginous and vasoconstrictor action.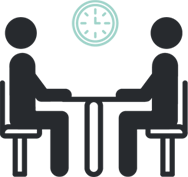 Arrange a
demonstration

(For Healthcare Professionals)
Arrange a demonstration, this can be arranged either face to face within your department or digitally.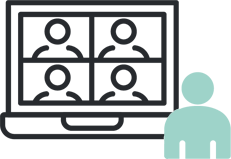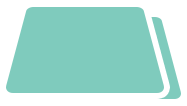 Submit a
placebo plaster request

(For Healthcare Professionals)
Submit a sample request here
Betesil
Video
(For Patients & Healthcare Professionals)
Watch our application guide video which provides some helpful advice for patients on how best to use BETESIL, including a variety of cutting and application techniques.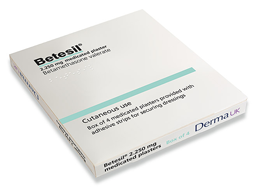 Method of administration
Precautions to be taken before handling or administering the medicinal product.
Cleanse and carefully dry the area to be treated before each application so that the medicated plaster adheres well to the skin.
Open the sachet containing the medicated plaster and cut the plaster, if necessary, so that it fits the area to be treated. Peel off the protective film and apply the adhesive medicated part to the area concerned.
Any unused part of the plaster should be put back into the sachet so that it keeps and can be used at the next application, always within one month.
The medicated plaster must not be removed and reused.
Once the medicated plaster has been applied, the skin must not come in contact with water. It is advisable to take a bath or have a shower between applications.
Furthermore, if the medicated plaster is applied to particularly mobile parts (e.g. an elbow or knee) and its edges start to lift, it is advisable to apply the adhesive strips for securing dressings included in the medicinal product pack .
Never cover the medicated plaster completely with occlusive material or dressing.
Children aged <18 years
Do not use on patients under 18 years of age.
Legal Category: (POM) Prescription Only Medicine
Product Information:
BETESIL contains 2.250 mg Betamethasone Valerate (corresponding to 1.845 mg of betamethasone).
Each medicated plaster is packed individually in a paper/polyethylene/aluminium/ethylene-methacrylic acid copolymer sachet.
Each box includes adhesive strips for securing dressings.
For full information about Betesil® 2.250 mg medicated plaster please see the documents above.
The Summary of Product Characteristics, which may be downloaded above, is the most up to date version, revised January 2019. Due to the timing of regulatory changes this may vary from the document on the MHRA website. If you have any queries, please contact us on +44 (0)191 375 9020.
Active Ingredients
Betamethasone valerate 2.250 mg per 7.5 cm x 10 cm medicated plaster (corresponding to 1.845 mg of betamethasone)
Adverse Effects
Adverse effects should be reported. Reporting forms and information can be found at https://yellowcard.mhra.gov.uk.
Adverse events should also be reported to Derma UK on +44 (0)191 375 9020