In response to the increasing need to reduce the spread of infections across all NHS departments, Derma UK is delighted to announce the launch of a new Hibitane™ Obstetric Cream 50ml pack size.
As a single-patient-use pack size, the opportunities for cross contamination between patients and healthcare professionals in obstetric and gynaecological practice are potentially reduced. The new pack size is designed with a simple flip cap which is quick and easy to use single handed by health care professionals during physical internal examinations and during labour and delivery.
With a 60-year heritage in Obstetric and Gynaecological practice, Hibitane™ Obstetric Cream is a chlorhexidine-based antiseptic antimicrobial lubricant licensed for use in Obstetrics and Gynaecology.  The active ingredient, Chlorhexidine Gluconate 1% w/w, equivalent to 5% v/w Chlorhexidine Gluconate Solution) is a highly effective antiseptic and antimicrobial which is effective against Gram negative and Gram positive bacteria, yeasts, dermatophyte fungi and lipophilic viruses.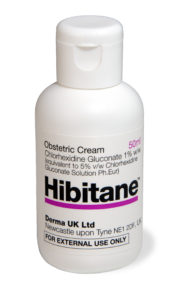 A survey conducted by Derma UK found that 64% of Healthcare Professionals working in Obstetrics and Gynaecology think that using a lubricant that contains chlorhexidine would help to reduce infections within their department. The benefits of using chlorhexidine in Obstetrics and Gynaecology are well-evidenced. Studies show that:
Chlorhexidine is a well-tolerated broad-spectrum antiseptic which has been shown to reduce neonatal morbidity due to group B streptococcus. It is capable of neutralizing many infectious agents, viral and bacterial
Cleansing the birth canal with chlorhexidine reduced early neonatal and maternal postpartum infectious problems. The safety, simplicity, and low cost of the procedure suggest that it should be considered as standard care to lower infant and maternal morbidity and mortality3
Former midwife and General Manager of Derma UK, Roisin Trainor comments, "In the Covid-era, reducing the spread of infection is at the forefront of the NHS agenda. The launch of the new 50ml pack size of Hibitane™ Obstetric Cream is an exciting opportunity for Derma UK to play a role in minimising the transmission of germs and infections in obs and gynae practice. Hibitane™ Obstetric Cream is a trusted formulation with a strong heritage. We have listened carefully to health care professionals who use the product in regular practice when developing this product innovation. We know that obstetricians, gynaecologists and midwives are using Hibitane™ frequently in practice (93% who use it do so at least weekly), so it's important to be able to offer a product option to help reduce infection."
Hibitane™ Obstetric Cream is licensed for use in a variety of Gynaecological and Obstetric procedures including Spontaneous Vaginal Deliveries, Assisted Deliveries and PV Examinations. In a survey of 141 health care professionals, of those questioned who stated they use Hibitane™ Obstetric Cream as a lubricant, 68% use the product for vaginal examinations, 41% during delivery and 30% for other actions including instrument lubrication and cleaning the skin.
The new 50ml single-use pack size is now available, alongside the original 250ml Hibitane™ Obstetric Cream. For more details visit dermauk.co.uk, email info@dermauk.co.uk or call 0191 375 9020 to discover how Derma UK's NHS Partnership Liaison Team can assist.
Click here to view abbreviated prescribing information for Hibitane™ Obstetric Cream.
[1] Derma UK Ltd., 'Summary of Hibitane™ Obstetric Cream Product Characteristics (SmPC).' 2019
[2] Derma UK LTD, Hibitane™ Obstetric Cream Research, 2018 March. Data on file.
[3] A, Fayez Bakr et al, Effect of Cleansing the Birth Canal with Antiseptic Solution on Maternal and Neonatal Mortality in Alexandria, American Journal of Paediatrics. July 2002, p379-383.
[4] Derma UK LTD, Hibitane™ Obstetric Cream Research, 2018 March. Data on file.