Derma UK is delighted to unveil its new dermatological emollient cream which moisturises, soothes and softens the skin, Ultrabase® Cream. To reflect the treatment's efficacy as a hydrating solution for dry and irritated skin, the packaging and healthcare professional literature features a new creative image on pack: a circular blue water "splash". With a heritage of over 40 years' experience in treating dry skin conditions, this brand update comes with a competitive new price* to continue to offer value to Healthcare Professionals from dermatologists, dermatology nurses to GPs and pharmacists.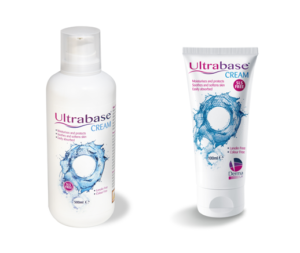 As part of a wider business strategy to increase sustainability, a number of changes have also been made to ensure the product is more environmentally friendly. The packaging is now made from 98% recyclable / disposable plastic and the new and improved formulation is driving manufacturing efficiencies.   
Sample sizes are also now available for Healthcare Professionals to trial the treatment and experience the benefits it can deliver to patients with a wide variety of dry skin conditions. Medical professionals can submit a request for samples via the brand website www.derma.co.uk/professional-product /ultrabase-cream
Roisin Trainor, General Manager of Derma UK comments, "Since its launch over 40 years ago, Ultrabase® has built a loyal following amongst Healthcare Professionals and has developed a reputation as a cost effective and reliable treatment for patients to relieve a range of dry skin conditions including eczema and psoriasis. Working in partnership with our customers has always been important to us, so we're delighted to now be able to offer samples sizes to medical professionals. We believe that this investment in the brand will provide Healthcare Professionals with a product which meets today's expectations of quality, sustainability and accessibility."  
Ultrabase® Cream can be used to reduce the redness and itchiness of skin problems especially those typically associated with eczema and psoriasis. Its soothing emollient properties  help protect against dry and irritated skin conditions.
With a pleasant, non-clinical scent, Ultrabase® Cream is a popular alternative for those patients who want to be able to enjoy their emollient, particularly if there is an increase in the number of applications.
Ultrabase® Cream is paraben free and does not contain Sodium Lauryl Sulphate.
For prescribing information for Ultrabase® Cream please visit http://ultrabasecream.info/
*Ultrabase® Cream is a premium emollient cream and is reimbursable from Part IX of the Drug Tariff. It is competitively placed in the emollient market.