With the ever increasing need to reduce the spread of infection across all NHS departments, and the importance of promoting best practice particularly during the Covid-Era, Hibitane™ Obstetric Cream offers an effective solution in helping prevent the risk of infection and cross-contamination in Obstetric and Gynaecological practice.
With a 60-year heritage in Obstetric and Gynaecological practice, Hibitane™ Obstetric Cream is a chlorhexidine-based antiseptic, antimicrobial lubricant licensed for use in Obstetrics and Gynaecology.  The active ingredient, Chlorhexidine Gluconate 1% w/w, equivalent to 5% v/w Chlorhexidine Gluconate Solution) is a highly effective antiseptic and antimicrobial which is effective against Gram-negative and Gram-positive bacteria, yeasts, dermatophyte fungi and lipophilic viruses.1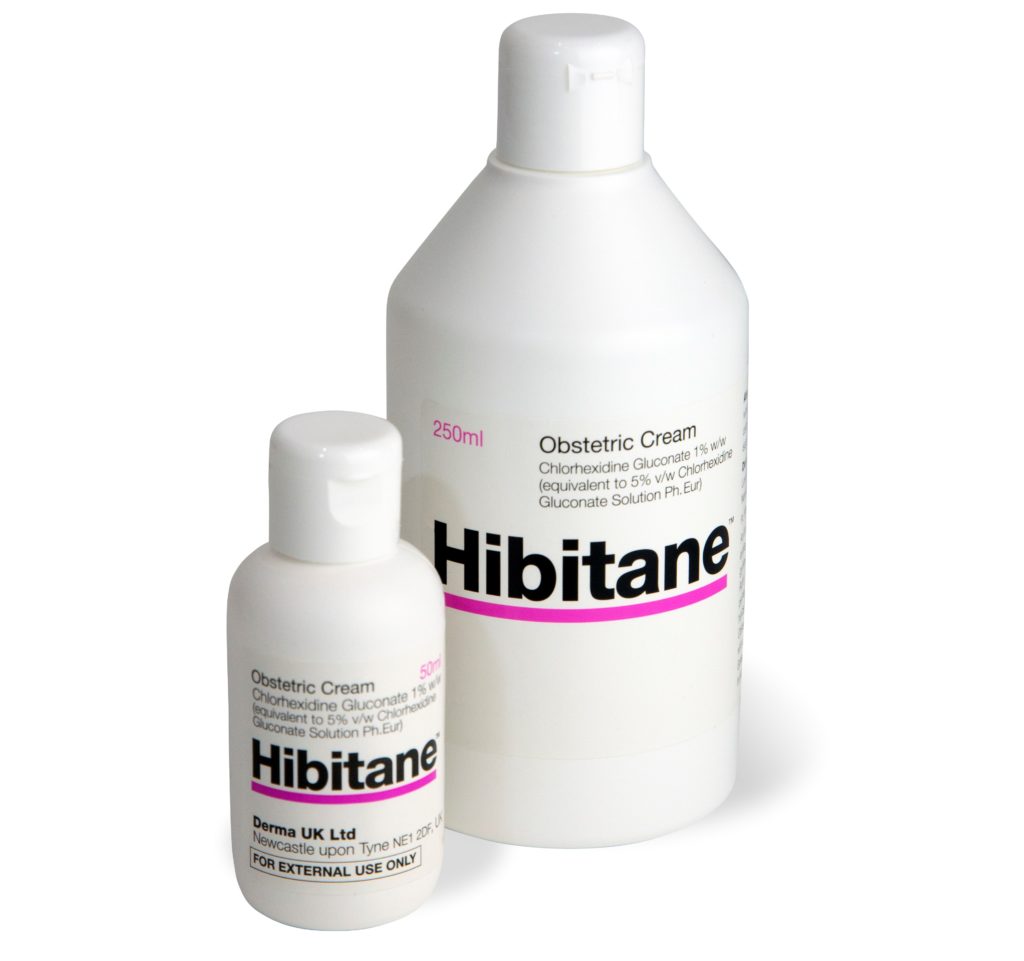 Studies have shown that 'Chlorhexidine is a well-tolerated broad spectrum antiseptic which has been shown to reduce neonatal morbidity due to group B streptococcus. It is capable of neutralizing many infectious agents, viral and bacterial.'2 Additionally, 'cleansing the birth canal with chlorhexidine reduced early neonatal and maternal postpartum infectious problems. The safety, simplicity, and low cost of the procedure suggest that it should be considered as standard care to lower infant and maternal morbidity and mortality.'2
As a response to the increasing concern regarding rising infection rates and cross-contamination, and as a result of research conducted by Derma UK, a new 50ml single-patient-use pack size of Hibitane™ Obstetric Cream was launched in May 2021. This new pack size is designed with the same flip top cap design as the 250ml bottle, thereby allowing the health care professional the ability to dispense the product with a single hand, quickly and easily, when performing PV examinations and during the course of labour and delivery.
In addition to this, the survey conducted by Derma UK also found that 64% of participants, working in Obstetrics and Gynaecology, stated that in their opinion using a lubricant that contains Chlorhexidine would help to reduce infections within their department and that 75% of participants working in Maternity and Delivery currently use Hibitane™ Obstetric Cream in order to contribute towards promoting best practice.
Hibitane™ Obstetric Cream is licensed for use in a variety of Gynaecological and Obstetric procedures and common uses include Spontaneous Vaginal Deliveries, Assisted Deliveries and PV Examinations. The new Hibitane™ Obstetric Cream 50ml single-use pack size is now available, alongside the original 250ml Hibitane™ Obstetric Cream. For more details visit dermauk.co.uk, email info@dermauk.co.uk or call 0191 375 9020 to discover how Derma UK's NHS Partnership Liaison Team can assist.
Click here to view abbreviated prescribing information for Hibitane™ Obstetric Cream.
References:
Derma UK Ltd., 'Summary of Hibitane™ Obstetric Cream Product Characteristics (SmPC).' 2019.
A, Fayez Bakr et al, Effect of Cleansing the Birth Canal with Antiseptic Solution on Maternal and Neonatal Mortality in Alexandria, American Journal of Paediatrics. July 2002, p. 379-383.