Derma UK is delighted to announce the second in a series of webinars held in partnership with the British Dermatological Nursing Group.
We would now like to invite you to the second instalment; "Going back to basics: Managing Patient Itch" with Fiona Elliott, Dermatology Nurse Consultant, Leeds.
The webinar will take place on Monday 26th July from 18:30-19:30, and is suitable for any Healthcare Professional with an interest in dermatology or other inflammatory skin conditions.
This session will cover the itch/scratch cycle and give practical solutions to help patients deal with itchy skin. Fiona Elliot will lead the webinar, which will be followed by a Q&A session. Please note: this webinar is for Healthcare Professionals ONLY.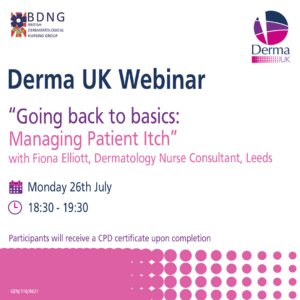 Recorded Webinar:
This will be a recorded webinar. There will be some interactive elements to it and Fiona will be available for a live Q&A at the end of the seminar. Questions can be submitted in advance of the webinar or during the presentation.
Registration:
Places are strictly limited for this free webinar. Please book early to avoid disappointment.
CPD Certificate:
A certificate will be emailed to participants by the BDNG when the webinar concludes.