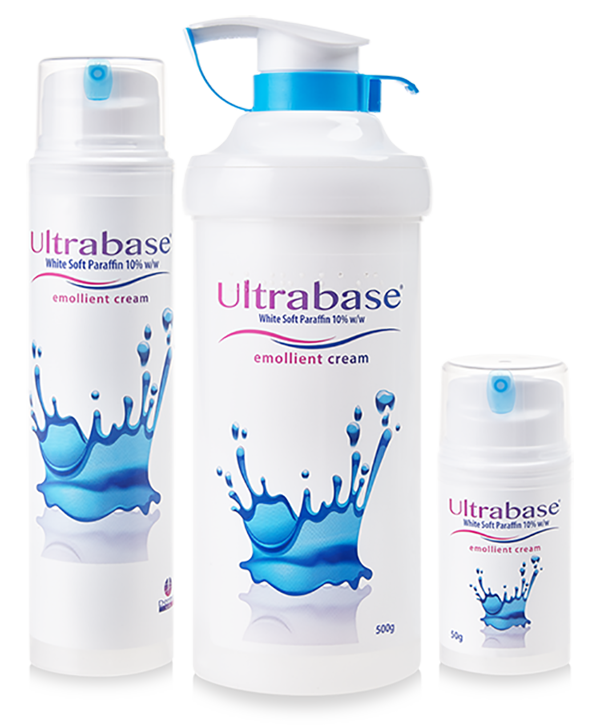 Product Indication
Ultrabase® is an emollient cream which may be used for a wide variety of dry skin conditions.
Ultrabase® is available in three convenient airless pump pack sizes:
50g   – ideal for carrying in hand bags and in-flight luggage.
200g – offering further flexibility in the range.
500g – pump dispenser for covering larger areas and for more frequent application.
How to Use Ultrabase®:
Ultrabase® should be smoothed onto the skin as often as needed.
Where to Obtain Ultrabase®:
Ultrabase® can be bought at your local pharmacy and is also available on prescription.
Product Information:
For full details about Ultrabase®, please refer to the Patient Information Leaflet below.
Due to regulatory changes, the content of the Patient Information Leaflet below (Revised September 2015) may vary from the one found in your medicine pack. Please compare the 'Leaflet prepared/revised date' towards the end of the leaflet in your pack, with the date on the document below, to establish if there have been any changes.
If you have any queries about your medication, please contact your doctor or pharmacist.
Pack Sizes
50g pump

200g pump

500g pump
Active Ingredients
White Soft Paraffin 10% w/w
Adverse Effects
Adverse events should be reported. Reporting forms and information can be found at https://yellowcard.mhra.gov.uk. Adverse events should also be reported to Derma UK on +44 (0)191 375 9020
Certificate of Authenticity