200g and 50g Pump Packs to be launched on 14th December 2015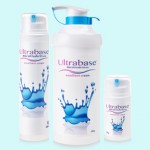 Following research carried out with BDNG members in 2014, Derma UK has announced the addition of two new airless pump dispenser sizes to their Ultrabase emollient cream range, complementing the current airless 500g pump pack.
The range has been expanded to offer a wider choice to prescribers and patients, increasing prescribing efficiency and patient convenience.
A new airless 50g pump size will replace the current 50g tube, perfect for carrying in hand bags and in-flight luggage. In addition, there is a new airless, 200g convenience pump pack, offering further flexibility in the range. Both products will be launched on 14th December 2015. For more information contact Derma UK on 01462 733500 or email info@dermauk.co.uk.